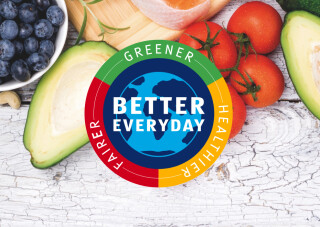 Tackling obesity
To support the Government's obesity plan and address the obesity epidemic, Aldi are taking a number of actions to help customers make healthier choices.
These include:
It is particularly important that we prioritise these activities to support healthy diets and address obesity in the context of Covid-19, where people who are overweight or obese are more likely to have worse health outcomes should they contract Covid-19.
We are striving to increase our proportion of sales from healthy products. To help measure our progress, Aldi have the goal that 70% of our total own brand food and drink sales (excluding Alcohol) will come from healthier products by 2025. We are defining 'healthy' by using the 2005 Nutrient Profiling Model.
In 2020, 66% of our own-brand sales were from healthy products. We will achieve our target through our reformulation programme by making more of our products fall under this 'healthy' definition, and marketing techniques to encourage customers to purchase healthier items.
Our health strategy and commitments are agreed with the executive management.