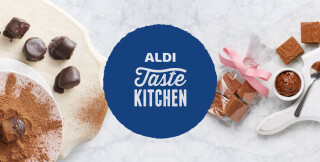 Homemade for Mum with love
On Mother's Day, it's up to Dad and the kids to treat Mum with homemade meals and lots of love. You'll find plenty of brilliant recipes ideas in our Taste Kitchen including an amazing Mother's Day Brunch, a Greek Lamb Roast for the family and perfect Pinwheel Pastries. Let's get started.
Mother's Day brunch and afternoon tea
Start Mother's Day with a brilliant brunch for Mum and carry on the treats with a delicious Afternoon Tea party.
Mains for Mum
Bring the whole family together on Mother's Day with a delicious dinner for all. Follow our guides for perfect Greek Roast Lamb or our alternative Roast Cauliflower.
Treats as sweet as Mum
Let mum put her feet up with these tasty treats on Mother's Day. We've got fun pinwheel pastries filled with jam, and microwave mug cakes too!
Make it for Mum
Surprise her and dine her so she can put her feet up. Our exclusive recipe collection has all sorts of meal ideas for making mum feel extra special with breakfast in bed to a brilliant brunch or big family dinner that will bring everyone she loves together.