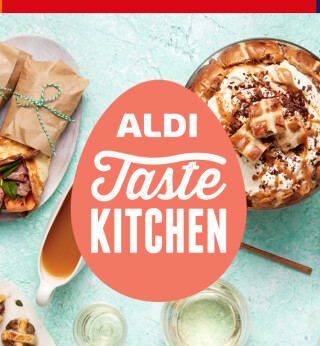 The ultimate Easter feast
Looking for some tips on how to cook the most amazing lamb or a sensational salmon? Watch our quick and easy guide. Plus, lots more Easter recipes we think you'll like at Aldi.co.uk/recipes
Easy Easter side dishes
Your Sunday roast will taste even more amazing with these brilliant sides. So, watch how to make a Skinny Cauliflower Cheese, delicious Red Wine Gravy, and tasty Mint Sauce. Not to mention an exotic Moroccan dish that's sure to add more zing to your Easter table!
Make an amazing Easter Show-Stopper
Satisfy that sweet tooth this Easter with more than just your gifted chocolate eggs! Try our amazing Salted Caramel Hot Cross Bun Trifle, or our Lemon and Blueberry Ombré Ruffle Cake. All thanks to inspiration from our Easter Taste Kitchen.
Let's bake!
Watch how to make these yummy Bunny Bread Rolls or cute Unicorn Cupcakes this Easter. They're fun to make and will capture everyone's imagination. Watch our step-by-step guide to help you along the way!
Watch. Learn. Cook.
You'll discover a mouthwatering hub of inspirational foodie videos on our Taste Kitchen YouTube channel, all ready and waiting to help you. Like what you see? Then simply watch, learn and cook.
Wow-worthy Easter recipes
Planning the Easter menu is all about picking dishes everyone will like. And you can't go wrong with these 3 cracking recipes - Pancetta Wrapped Lamb, Fish Tacos and our sensational Hot Cross Bun Trifle.