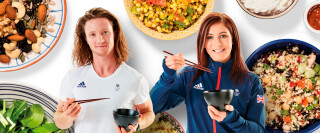 No one knows the benefits of a balanced diet more than our Team GB athletes. Get to know all of their healthy meal tips and energy-boosting secrets as they spill the beans on their preparations for PyeongChang 2018.
A typical day eating like an athlete doesn't need to be boring. As shown by our athletes, it's about balance and amazingly fresh produce.

"I often have to remind myself to have salads and vegetables and lots of green things, even in the winter, because it's easy to go for carbs because you want comfort".
Try to incorporate stretching or yoga into your day like Lizzy.

"I think having a good balance is the main thing, making sure you eat plenty of fruit and vegetables to keep you healthy, and to keep yourself going. Especially when it's the cold weather, it's really important to get the vitamins and goodness in you."
Have a workout partner. Commit to an activity with a friend and you are sure not to miss that gym session and no doubt you'll have more fun too!

"I start plant-based and build from there. This ensures I get all my greens in and then on top protein, meat, eggs, fish and milk."
On the mountain or in the sea, James loves mixing up his sports in the Summer and catches some waves by surfing.