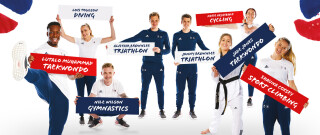 Meet the Team
Say hello to our amazing Team GB ambassadors – Jade Jones, Katie Archibald, Shauna Coxsey, Lois Toulson, Nile Wilson, Lutalo Muhammad and Alistair and Jonny Brownlee. Together they offer some of Team GB's best medal hopes for Tokyo 2020 with events covering everything from taekwondo and climbing to cycling, gymnastics and diving. Let's meet the team.
Our taekwondo superstars
Jade Jones and Lutalo Muhammad both have their sights set on gold at Tokyo 2020. For Jade, it will be 3 in a row. For Lutalo, it will be the missing gold.
Britain's No.1 climber
"Climbing is a natural thing to do" says Runcorn's Shauna Coxsey, who is best known for winning the IFSC Sports Climbing World Cup in 2016 and 2017.
The Brownlees. 3 events, 2 men.
Alistair and Jonny Brownlee captured not only the Olympic triathlon gold and silver medals, but also the hearts of the nation, in Rio 2016. Legends of the road, bike and water, Alistair now holds 2 Olympic gold medals from London 2012 and Rio 2016, Jonny the bronze and silver.
Aldi is proud to partner The Brownlee Foundation which was set up in 2014 to inspire kids to get into sport.

Experience tells the Brownlees that drinking water is key to helping your body recover after training hard.
Homegrown in Leeds
10m diving sensation Lois Toulson, 20 and world-class gymnast Nile Wilson, 23, have a lot of things in common. They are both at the top of a sport that requires precision, strength and flexibility. They are also both Homegrown Heroes from Leeds.
Britain's track queen
Katie is a force to be reckoned with in the cycling world. She has dominated the Madison event since it was introduced to the women's program in 2017 and holds the title of World Champion 2018-2019.