Aldi are proud to partner with Teenage Cancer Trust
Teenage Cancer Trust is the only UK charity solely focused on supporting young people aged 13-24 living with cancer. Through their work they support patients living with cancer, as well as parents, teachers and employers to raise awareness of early warning signs and treatments. They also set up Cancer Education and Awareness programmes in schools across the UK to help more young people understand early warnings signs and how to cope with treatment.
Coming together to support cancer patients
It's our goal to help raise awareness of this vital cause and work together with Teenage Cancer Trust to ensure every young person with cancer gets the support they need, when they need it, before and after diagnosis. Watch the videos below to see the difference Teenage Cancer Trust can make to the lives of young people affected by cancer.
How we're helping
Our national charity partnership with Teenage Cancer Trust began in January 2017, with a goal to raise £5 million in 5 years.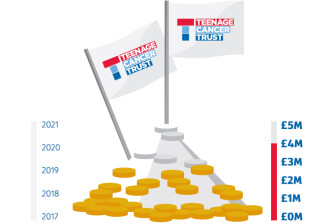 From running to baking, cycling to skydiving, our customers and colleagues have been leaping at every available opportunity to make this possible. Thanks to the #EverydayAmazing efforts, we have exceeded the £4 million mark sooner than expected! Here's what that money has done so far:
Royal Albert Hall concerts
In 2017, 2018 and 2019, Aldi supported the annual Teenage Cancer Trust concerts at the Royal Albert Hall. A full week of shows, with world famous singers and comedians performing to help raise over £5 million for the charity.
One amazing week
Young people who have had the support of Teenage Cancer Trust had an amazing backstage experience, soaking up the atmosphere, meeting acts, enjoying dinner before getting the ultimate selfie on stage.
How you can help
By working together, we can ensure no young person faces cancer alone. Look out for Teenage Cancer Trust fundraising activities in your local Aldi and show your support by donating.