Teriyaki Cod with Tenderstem Broccoli
Teriyaki Cod with Tenderstem Broccoli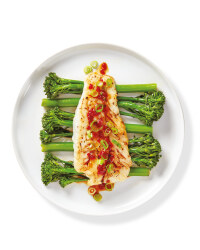 Recipe Information
Ingredients
1 x 350g pack Cod Fillets
1 x 200g pack Specially Selected Tenderstem Broccoli
2 x Spring Onions
2 tsp Ground Ginger
1 Clove of Garlic
1 tbsp Crushed Chillies
2 tbsp Clear Honey
5 tsp Olive Oil
6 tbsp Soy Sauce
Salt & Black Pepper
Method
Press the garlic clove then chop the garlic and spring onions.
Heat 2 teaspoons of olive oil in a pan and fry the garlic, ginger and crushed chilli for 2 minutes.
Add the soy sauce and clear honey then leave to boil for a few minutes until the sauce thickens.
Heat 3 teaspoons of olive oil in a frying pan then season the cod and add to the pan.
Fry the cod for 2 minutes on each side.
Meanwhile boil a pan of lightly salted water and cook the broccoli for 3 minutes.
Serve the broccoli and cod then drizzle with the teriyaki sauce.
Sprinkle with chopped spring onions and serve.