Zesty and refreshing with a hint of spice, this sauce is the perfect foil for white meats and fish.
Thai Lemongrass & Ginger Sauce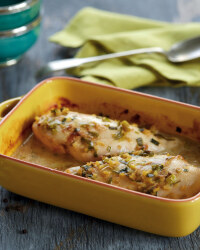 Recipe Information
Ingredients
2 Sticks Lemongrass
25g piece Fresh Ginger
5 Spring Onions
1 Green Chilli
15ml Asia Soy Sauce
400ml can Asia Coconut Milk
1 Quixo Vegetable Stock Cube
25ml Solesta Sunflower Oil
Method
Trim the spring onions and slice thinly.
Peel the outer coarse leaves and slice the lemongrass thinly.
Peel the ginger and chop finely.
Cut the chilli in half lengthways, discard the seeds and slice thinly.
Heat the oil in a medium-sized saucepan, add the lemongrass, spring onion, ginger and garlic.
Fry for 2-3 minutes, then add the crumbled stock cube.
Cook for a further minute and then add the coconut milk and soy sauce.
Bring the sauce to the boil, then turn the heat down and simmer for 10 minutes.
Pre-heat the oven to 190ºc/375ºf/Gas Mark 5.
Pour the sauce over 4 Ashfield Chicken Breasts and bake for 20 minute, or pour over The Fishmonger Cod Fillets, baking in the oven for 15 minutes.