Thai Sea Bass fillets with Asian noodles and vegetable stir fry.
Thai Sea Bass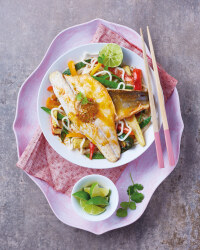 Recipe Information
Ingredients
2 x packs Seabass with lemongrass and chilli butter
1 x pack Asia ready to wok noodle

100g coconut milk
15g piece ginger
2 x cloves garlic
Juice ½ lime
½ teaspoon chilli powder
4 x mini peppers
135g baby sweetcorn
135g mangetout
5g fresh coriander
Sea salt and black pepper
A little rapeseed oil
Method
Peel the garlic and the ginger.
Chop them finely and put into a bowl.
Add the lime juice, chilli powder and the coconut milk, season with a little salt and pepper and mix well.
Cut the mangetout and the sweetcorn in half lengthways.
Cut the peppers into strips – discard any white pith and seeds.
In a large wok add some oil and heat.
Add the sliced vegetables and stir fry for 5 mins, add the noodles and cook for another couple of mins until the noodles are loosened – add the coconut mixture and heat through.
Meanwhile cook the sea bass as per instructions on the back.
Serve the sea bass on a bed of the Asian hot salad drizzled with the lemongrass butter.