Large Yorkshire pudding stuffed with bacon, tomato, mushroom and egg.
The Brownlee Brothers' Big Yorkshire Breakfast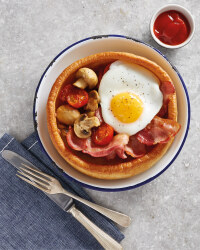 Recipe Information
Ingredients
140g Plain Flour
8 Medium Eggs
250ml Semi Skimmed Milk
150g Cherry Tomatoes
150g Button Mushrooms
8 rashers of Streaky Bacon
A little Vegetable Oil
Salt and Black Pepper
4 large Yorkshire Pudding tins
Method
Pre-heat the oven to 220°C/425°F/Gas Mark 7.
Put the flour into a large bowl and add a little salt.
In another bowl, mix 4 eggs with the milk and whisk well.
Gradually whisk the milk mixture into the flour until you have a smooth batter.
Allow to stand for an hour.
Grease the tins well with some oil.
Pour in the batter until the tins are ¾ filled.
Put into the oven for 20-25 minutes until well risen.
In the meantime, cut the tomatoes in half.
Wipe and halve the mushrooms.
Sauté them in a little oil until just cooked.
Grill the bacon and fry the remaining eggs.
Divide the tomato and mushroom mix between the Yorkshires.
Top each one with 2 slices of bacon and a fried egg.
Serve immediately.