Simple pea and pancetta spread recipe. Delicious idea for starters and snacks.
The Flying Tra-Peas & Pancetta Bruschetta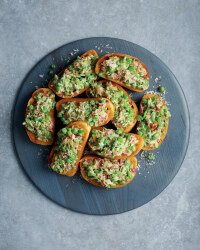 Recipe Information
Ingredients
250g Frozen Peas
80g Pancetta Strips
3 Italian Style Ciabatta Rolls
80g Shallots, finely chopped
60g Soft Cheese
55ml Olive Oil
3 Garlic Cloves
15g Parmesan Cheese, grated
Sea Salt
Black Pepper
Method
Pour boiling water over the peas and allow to stand for a few minutes then drain well.
Finely chop the pancetta.
Peel and mince the garlic.
Heat the olive oil in a large frying pan.
Add the pancetta and shallots.
Sauté until the pancetta is just browning.
Add the garlic and the peas and season.
Cook for a further few minutes, mushing the peas with the back of a wooden spoon.
Take the pan off the heat and stir in the soft cheese.
Pre-heat the grill to high.
Slice each roll into 4, brush some olive oil on each cut side and grill until toasted.
Divide the mixture between the slices.
Sprinkle the parmesan and drizzle any leftover olive oil.