A supercharged mulled wine with plummy depth from the port and complexity from the aged brandy.
The Mulled Emperor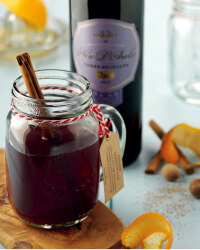 Recipe Information
Ingredients
150ml Napoleon Brandy
750ml Nero D'avola
250ml Fletcher's Fine Ruby Port
50ml L'esprit D'orange Orange Liqueur
2 Oranges, juiced and zest cut into strips
1 Clementine
10 Cloves
1 Cinnamon Stick
Nutmeg, grated
4 tbsp Sugar
Method
Stud the clementine with the cloves and pour all the liquid ingredients into a large saucepan.
Bring to the boil and then turn down the heat and allow to simmer before adding the remaining ingredients to the pan.
Simmer for 20 minutes, or until the flavours are fully infused and pour into a mug to serve.