Pork steaks served with apple and cider cabbage and a creamy mustard sauce.
Thyme and Potato Crusted Pork with Braised Cabbage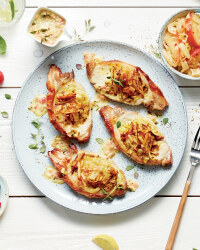 Recipe Information
Ingredients
For the Pork:
4 Pork Loin Steaks
750g Maris Piper Potatoes
4 tsp Wholegrain Mustard
1 tsp English Mustard
100g Butter, melted
2 Shallots, diced finely
1 tsp Plain Flour
2 tsp Brown Sugar
Dried/Sprigs of Fresh Thyme, chopped finely
450ml Cider/Apple Juice
100ml Double Cream
For the Cabbage:
½ Red/White Cabbage, chopped finely
25g Butter
3 Shallots, diced finely
Pinch Ground Cinnamon
Pinch Chilli Flakes
140ml Cider/Apple Juice
Dash Balsamic Vinegar
2 tbs Brown Sugar
2 Pink Lady Apples, each cored and sliced into 8 pieces
Sea Salt and Ground White Pepper
Method
Heat the butter in a saucepan and add the shallots to caramelise, then add all the other dry spices and stir.
Add the cider, vinegar and sugar, bring the mixture to a simmer then cover and cook for 30 minutes, stirring occasionally.
Add the sliced apple and cabbage and cook for a further 15 minutes until both soft.
Pre-heat the oven to 160°C/Gas Mark 4.
Trim and season the steaks on both sides and smooth ¼ tsp of mustard over each steak.
Grate the potatoes, squeezing out the excess water. Mix with the melted butter and season, then cover the top of each steak pressing down firmly.
Fry the steaks for a few minutes each side in a frying pan, using a spatula to turn carefully, keeping the potato attached.
Put the steaks in the oven, on a baking tray, on the top shelf for 15-20 minutes.
In the meantime, fry the finely diced shallots in a frying pan until soft, sprinkle in the flour and stir vigorously with a spoon.
Gradually add the cider/apple juice, constantly stirring.
Add both mustards, thyme and the sugar and simmer until reduced by half.
Stir in the cream, allowing to reduce again, until the sauce is of pouring consistency.
Remove the steaks from the oven and allow to rest for 5 minutes.
Pour the sauce over the steaks and serve with the cabbage.