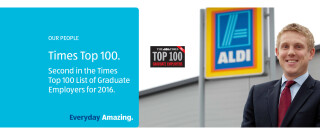 We've now featured in the top 10 for 9 years in a row!
Aldi is second in The Times Top 100 List of Graduate Employers for 2016, placing us 1st among retailers. We are also The Times Top Graduate Employer of Choice for General Management for the eighth consecutive year! Meanwhile, in Ireland, we were ranked 16th in the gradireland Leading Top 100 Graduate Employers, moving up 10 places from number 26 in 2015.
The Times Top 100 rankings are compiled every year, based on feedback from over 18,000 graduates. Since they established in 1999, no retailer has been ranked in the top two until this year and we've now featured in the top ten for nine years in a row… Go us!
"It's testament to our ability to provide highly sought-after and rewarding graduate opportunities," said Ruth Doyle, Regional Managing Director. "And highlights the consistent recognition which we receive from students and universities alike."