A tasty warming dish – perfect for a mid-week dinner.
Toad in the Hole with onion gravy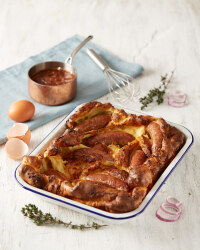 Recipe Information
Ingredients
8 Specially Selected Pork Sausages
4 Large Eggs
140g Plain Flour
300ml Semi Skimmed Milk
50ml Vegetable Oil
300g Red Onions
60g Salted Butter
2 Beef Stock Cubes
10g Tomato Purée
10ml Soy Sauce
10ml Worcestershire Sauce
500ml Water
Sprig of fresh Thyme
½ tsp Paprika
Sea Salt and White Pepper
1 metal roasting dish, approx. 25 x 35cm
Method
Pre-heat the oven to 220°C/425°F/Gas Mark 7.
Sift the flour into a bowl. Whisk the eggs with the milk in another bowl with a little salt. Make a well in the centre of the flour. Add the milk and egg mix, slowly bringing in the flour, until you have a smooth batter.
Put the sausages into the metal baking tin with the oil and cook for 15 minutes. Then pour over the batter and bake in the oven for 25 minutes.
Meanwhile, make the gravy. Peel, halve and slice the onions. Melt the butter in a frying pan and sauté them for 5 minutes. Then add the water, thyme, paprika, tomato purée, soy and Worcestershire sauces. Crumble over the stock cubes and season with some white pepper. Bring to the boil, stirring occasionally. Simmer for 15 minutes until thickened, then remove the thyme.
Serve alongside the toad in the hole.