Sweet Toffee Apple doughnuts dipped in icing and served with diced apples.
Toffee Apple Doughnuts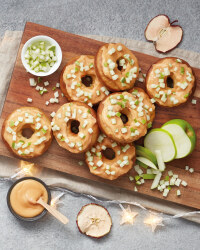 Recipe Information
Ingredients
500g Plain Flour
225g Caster Sugar
15g Baking Powder
1½ tsp Salt
1 tsp Ground Cinnamon
½ tsp Baking Soda
2 x medium Eggs
170ml Milk
15ml Lemon Juice
1 x 270g jar Bramley Apple Sauce
60g Unsalted Butter
2 x Red or Green Eating Apples
Icing
60g Unsalted Butter
100g Demerara Sugar
35ml Milk
70g Icing Sugar, sieved
Decoration
5ml Lemon Juice
½ Red or Green Apple
1 x 12-hole doughnut tin
Method
Pre-heat the oven to 190°C/Gas Mark 5.
Put the lemon juice in with the milk and let the mixture stand for a few minutes.
Put the flour, caster sugar, salt, cinnamon, baking powder and soda into a large mixing bowl and whisk well. Grate the 1½ apples.
Put the apple sauce into another bowl, melt the butter and add to the bowl, along with the grated apples and the milk mixture.
Beat the eggs and add these too – mix well.
Mix half the apple mixture into the flour and beat with a wooden spoon.
Then add the remaining apple mix and stir through until just mixed. It should be sticky and bubbly.
Grease the tin with a little sunflower oil.
Pipe the mixture into the tins until the mixture comes ¾ way up the sides of the holes.
Bake in the oven for 10-14 minutes until risen and just lightly browned. Turn out of the tins and cool.
To ice and decorate, finely dice the ½ apple and put into a small bowl with the lemon juice – stir well to coat to prevent the apple from going brown.
Put the butter, demerara sugar and the milk into a small saucepan.
Slowly heat until the sugar has melted, then bring to the boil, turn down the heat and simmer for a minute.
Take off the heat and allow to cool for 5 minutes, then beat in the icing sugar.
Dip the tops of the doughnuts in the icing, or drizzle over. Sprinkle with the diced apple and serve.