Rich cheese filling topped with pine nuts, pesto and tomato inside a puff pastry base.
Tomato & Goats' Cheese Tarts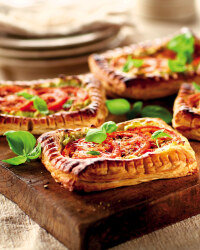 Recipe Information
Ingredients
375g pack Ready Rolled Puff Pastry
150g Plain Goats' Cheese
100g Reduced Fat Garlic & Herb Soft Cheese
1 Large Egg
30ml Milk
2 tsp Pesto
8g Pine Nuts
4 large Vine Tomatoes
30ml Virgin Olive Oil
Fresh Basil Leaves
Sea Salt and Black Pepper
Find your ingredients online on Click & Collect or find your nearest store using our Store Finder.
Method
Pre-heat the oven to 200°C/Gas Mark 6.
Roll out the pastry and cut into 4 oblongs.
With a sharp knife, about 10cm in from the edge, score each oblong all the way around, like a picture frame (don't slice through).
Transfer to a slightly greased baking tray.
Mix together the egg and milk.
Brush the border strips on the pastry tarts with the egg wash.
In a bowl, mix the remaining egg wash with the goats' cheese and soft cheese.
Divide the mixture into 4.
Spread the cheese mixture over the base of each tart, avoiding the border.
Sprinkle over the pine nuts and drizzle the pesto on top of the cheese mix.
Thinly top and tail each tomato and then cut 4 slices from each one.
Discard the tops and tails and layer the sliced tomatoes over the cheese mix.
Brush the tomatoes with some oil, season with salt and pepper and bake in the oven for 15 minutes.
Serve sprinkled with fresh basil leaves and drizzled with the remaining oil.