A great pastry dish full of flavour and fresh veg, these tarts are quick and simple for everyone to enjoy!
Tomato and Goats Cheese Tarts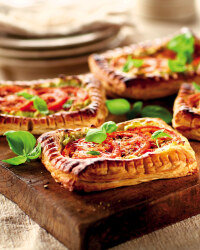 Recipe Information
Ingredients
4 x Large Vine Tomatoes
375g pack Greenvale Ready Rolled Puff Pastry
150g Goats Cheese
1x Large Egg Yolk
1x tsp Pesto
2x tsps Milk
Black Pepper
30ml Solesta Olive Oil
Fresh Basil leaves
Method
Pre-heat the oven to 200°C /400°F /Gas 6.
Roll out the pastry and cut into 4 oblongs.
With a sharp knife score each oblong, all the way round (like a picture frame) about 10 cm in from the edge - don't cut straight through.
Put them on a lightly greased baking tray.
Mix the egg yolk and the milk together, brush the egg wash over the 10cm border strip around each oblong.
Mix the remaining egg with the goat's cheese and pesto in a bowl, mix well.
Divide the mixture into 4.
Spread the base of each pastry oblong with the goats' cheese mixture; try not to get this on the border.
Slice the tomatoes thinly and lay the slices on top of the goats' cheese mixture.
Brush the tomatoes with the olive oil and season with some salt and black pepper.
Bake in the oven for 15 minutes until the sides are risen and browned.
Sprinkle over some fresh basil leaves and serve.