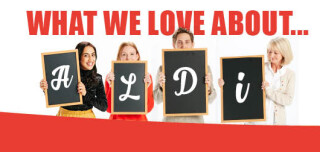 Fresh Lunch Ideas
Time to start thinking about the start of term and how you can put value in their lunch box. So, we've got lots of affordable, super tasty lunch box ideas just for you.
Join the Aldi
lunch bunch
Be inspired to make lunch times fun, healthy and tasty this term, with this brilliant Bento-box style Bean Mash from Sara Kiyo. Plus 3 quick and easy packed lunch recipes they'll love.
Back to school
The summer holidays are almost over and families all over the country are getting their kids ready to go back to school. It can be an expensive time of year, so it's handy to find amazing Aldi prices on everything from uniforms to school bags.
Amazing value!
Mum of 2, Renu, has been really impressed with the value and quality of Aldi's school uniforms. "I couldn't believe the price," she says. "I bought double for the same amount this year."
There's lots to love about Aldi
Amazing tastes. Amazing quality. Amazing prices. Our families love lots of things about their Aldi shop, from amazing groceries and wine, to fresh seafood and our incredible Specialbuys.
Feast on fish!
Our swappers are spoilt for choice when it comes to choosing fish at Aldi. And Michelle couldn't wait to cook this sensational Sea Bass recipe. Perfect with a crisp refreshing Sauvignon blanc.
Meet the other savers...
The amazing hints and tips don't end there, meet our other families to discover fantastic top swaps, recipes and much more.
Classic summer cocktails
With an amazing range of award-winning wines and spirits there's plenty of summer drinks to choose from. And our savers have been inspired by our delicious summer cocktail recipes. Here's a few of their favourite summer sips.