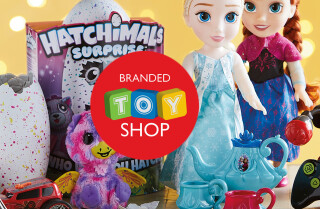 Amazing branded toys
At Aldi, you can find a great range of branded toys and games without breaking the bank.
If you are looking for that classic game to play with the family then look no further! We have an amazing selection of well-known fun for all ages games including; Cluedo, Mouse Trap, Operation Game and Twister… trust us, with amazing selection you'll never be 'board'!
6V Audi TT Ride On
Licensed by Audi, this fantastic Ride On with working lights moves forwards and backwards using the foot pedal or remote control. With its adjustable seat belt, wing mirrors and musical steering wheel it's ideal for 3-7 year olds, up to approx. 30kg
Junior Telescope
Perfect for beginners, this high quality, fully equipped Newton reflector telescope with aluminium Tripod and 28x-233x magnification can see planets and details of the moon. Its mirror diameter is approx. 76mm with a focal length of approx. 700mm.
Powerman/girl
These amazing remote control robots move in all directions, launch foam discs and dance. They'll also repeat what you say, play music, tell jokes and stories and ask educational questions. Complete with Batteries, they're suitable for ages 4+ years.
Hogwarts Express
Start your amazing journey to build your very own LEGO Hogwarts Express. Perfect for ages 8+, it includes Harry, Ron, Hermione, Remus Lupin, Trolley Witch, Dementor and Scabbers mini figures plus a host of accessories.