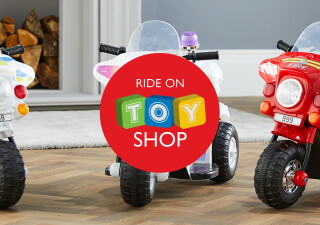 Our Toy Shop has closed for 2018
But make sure to come later this year when we'll have many more amazing products available to buy online. In the meantime, check out the Ride On toys we currently have available below.
Pony or Unicorn Ride On
Make your little ones' dreams come true with a beautiful soft-touch pony or unicorn. They'll have hours of fun riding around the home, making up new adventures as they go with their new best friend.
Wooden Rocking Horse or Unicorn
Saddle them up for a big adventure on these amazing rocking horse or unicorn toys. They even make animal sounds when you press their ear! Choose between fawn or grey for their horse, and pink or white for their unicorn.
Ride On Bikes
They'll have an amazing adventure on one of these fast paced toys. Chasing the bad guys on a Police Bike or answering the call in a brilliant red Fire Engine. For a more magical journey, they can climb on a Unicorn Bike and ride into the sunset.