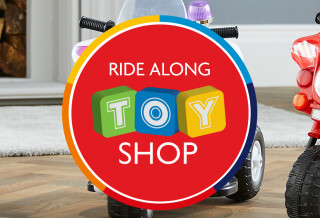 A new set of ride-on wheels.
Let your little one's imagination ride wild with our amazing range of kid's ride on toys. From emergency vehicles to super speedy road cars, they'll love to hop on, put their foot down and zoom around for hours on these amazing ride-on toys.
Buzz Lightyear 6V Space Cruiser
If they love Toy Story, they'll love Buzz Lightyear's Space Cruiser! This brilliant battery-operated ride-on trike has simple stop/go foot pedal control, forward and reverse gears, flashing lights and spaceship sounds. To infinity, and beyond!
Pony Ride On Toy
Designed to improve balance and co-ordination, this unique ride-on toy recreates a galloping motion, rising and falling in the saddle as it moves along on its 4 wheels – but most of all, it's fantastic fun! Available as a pony or unicorn.
Unicorn Ride On Toy
This rocking ride-on will keep younger children busy for hours! On sensing movement it engages them with realistic noises, nursery rhymes and songs, while learning keys on the mane teach letters, animal names and noises. Available as a pony or unicorn.
6V Ride on Fire Engine
Get ready for action with this Fire Engine Trike! With emergency headlights and realistic sound effects, they'll be whizzing around with excitement as they play firefighter. Plus with the 6V rechargeable battery they'll always be ready for action.
SOLD OUT ONLINE
6V Ride on Ambulance
Let them turn on the key and save the day with this 6V Ride on with lights and flashing light poles. Reaching top speeds of 3kmph they'll be at the scene of the incident in no time.
SOLD OUT ONLINE
Welcome to a world of pure imagination
Come with us and they'll see that all their wishes can come true with a little imagination and some great value on branded toys, ride-on toys and more.