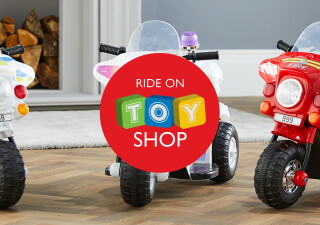 Amazing ride on toys
Let their imagination ride wild with our amazing range of kids' ride on toys.
We have super speedy ride on cars for the budding Formula One star, amazing ponies, horses and much more! Whatever your child's dreams, indulge them with one of our amazing ride on toys and create hours of endless entertainment!
Unicorn/Pony Ride-on
A beautiful unicorn or pony with easy-glide wheels. Children can propel by rising and falling in the saddle. It has a soft-touch padded body and padded seat, with grab handles and foot rests. Approx. 80 x 34 x 86cm, suitable for ages 4+ years.
6V Audi TT RS Ride On
Licensed by Audi, this fantastic Ride On with working lights moves forwards and backwards using the foot pedal or remote control. With its adjustable seat belt, wing mirrors and musical steering wheel, it's ideal for 3-7 year olds, up to approx. 30kg