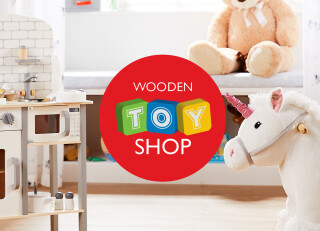 Wooden toys for kids of all ages
Our traditional wooden baby toys and kids' toys are made to last, even after hours of play. Our wooden toy shop features toys to stimulate imaginations, featuring wooden role play toys that have been popular for generations. From pirate ships to kitchens and dolls' houses, these classic wooden toys still enchant children today.
Wooden Rocking Horse or Unicorn
Saddle them up for a big adventure on these amazing rocking horse or unicorn toys. They even make animal sounds when you press their ear! Choose between fawn or grey for their horse, and pink or white for their unicorn.
Traditional accessories to make the fun even better.
Don't forget our wooden toy world doesn't just stop at the hero items. You can pick up lots of amazing accessories to inspire their imaginations as well. And all at amazing Aldi prices.