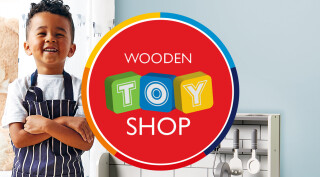 Amazing Wooden Toys
A beautiful doll's house and theatre, a little wooden party table and chairs, wooden pirate ships, train sets and easels are just a few examples of our wooden toy collection. Create hours of endless play, imagination and childhood memories with our classic wooden toys.
SOLD OUT ONLINE
SOLD OUT ONLINE
SOLD OUT ONLINE
SOLD OUT ONLINE
Welcome to a world of pure imagination
Come with us and they'll see that all their wishes can come true with a little imagination and some great value on branded toys, ride-on toys and more.