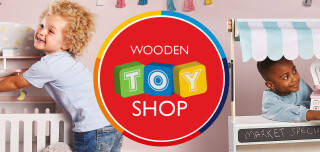 Wonderful wooden toys.
Timeless and enchanting, wooden toys are a great way for little imaginations to create hours of fun, endless play and memories that last a lifetime. And from a beautiful doll's house and amazing play kitchens to wooden baby walkers and pull-along animals you'll find something for every little one in our wooden toy collection.
Balance Bike
This delightful wooden balance bike in the style of a classic scooter will give them hours of fun pretending they're riding round the countryside! Complete with sturdy wooden stand, it's available in grey or pink. Ideal for ages 2 and over.
Aldi Supermarket
Almost as amazing as the real thing, this wonderful wooden play set lets them recreate the Aldi shopping experience at home, with Conveyor Belt, Customer Spacer, Till, Play Money, Card Reader and Card, Sign and Paper Shopping Bag all included.
Large Wooden Toy Kitchen

Wooden Kitchen Set
Wooden Dolls House

Wooden Tabletop Roleplay
Wooden Garage

Wooden Rocket

Wooden Road Set
Why choose wooden toys?
Everyone loves wooden toys. But here's a lot more to it than just nostalgia. In a world of the latest technology and newest gadgets, the wooden toys you loved as a child are still charming, timeless and lovely to look at, but also fire the imagination in ways few other toys can. There are other reasons to choose wooden toys too.
They're more sustainable.

Wooden toys are far more sustainable than plastic, being made from natural materials to help protect the environment. They can be passed down through generations too!

They're more creative.

A child's imagination is especially powerful, and wooden toys help to nurture their creativity, sparking natural curiosity and developing many skills.

They're more durable.

Toddlers' toys need to be tough. And while plastic can become brittle and break easily, wooden toys handle natural wear and tear – sometimes for a lifetime.

FSC (Forest Stewardship Council)

The FSC label guarantees that the trees that are harvested are replaced or allowed to regenerate naturally and some parts of forest are protected entirely.
Welcome to a world of pure imagination
Come with us and they'll see that all their wishes can come true with a little imagination and some great value on branded toys, ride-on toys and more.

Discover a whole range of amazing things with incredibly small prices.