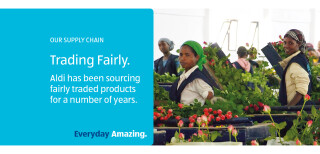 Our broad range of Fairtrade, Rainforest Alliance
and UTZ- certified products includes chocolate, coffee,
tea, bananas, rose and wine
Everyone gets a fair deal when you buy Fairtrade. Which is why Aldi sources Fairtrade products, helping hundreds of farmers, workers and their families get a fair deal for the crops they harvest as well as access to education, medicine and more.
Selling Fairtrade, Rainforest Alliance or UTZ Certified products, whether it's coffee from Costa Rica or roses from Ethiopia, you can be sure that the farmers get a good deal.
In 2015 we sold a range of Fairtrade certified products, representing over £12 million worth of sales across the UK and Ireland.
We're extremely proud of the fact that Aldi is the biggest seller of Fairtrade roses in Ireland and the only retailer actively supporting Fairtrade in Ethiopia. In 2015 we sold over 2 million stems and helped hundreds of workers and their families find specialist medical care and access to education. We're proud to say that our roses are red, yellow, pink and fair for all.
Discover our Banoffee Nut French Toast
Aldi has its own chocolate factory and the chocolate is all certified to UTZ standards.