Succulent tuna, baby potatoes and a medley of fresh vegetables make up this classic salad.
Tuna Niçoise Salad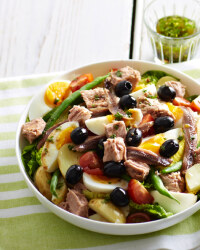 Recipe Information
Ingredients
4 Eggs
8 Baby Potatoes
100g Green Beans
4 Tomatoes
1 Little Gem Lettuce
2 x 185g cans Tuna Chunks
6 canned Anchovy Fillets
12 Black Olives Dressing
4 tbsp Olive Oil
1 tbsp Balsamic Vinegar
1 clove Garlic, crushed
1 tbsp freshly chopped Parsley
Freshly ground Salt and Black Pepper
Find your ingredients online on Click & Collect or find your nearest store using our Store Finder.
Method
Cook the eggs in boiling water for around 7 minutes. Drain and cool under running water. Peel and quarter. Cook the potatoes in lightly salted water until tender. A couple of minutes before they are fully cooked, add the beans to the pan. Drain then cool under running water. Quarter the potatoes. Wash the little gem lettuce and pat dry to remove as much water as possible. Quarter and place on a large serving platter. Scatter over the beans and potatoes. Quarter the tomatoes and add to the salad. Arrange the eggs on top. Drain the tuna and add to the salad. Top with anchovy fillets and, finally, add the black olives. Use a fork to whisk together all the dressing ingredients and then drizzle over the salad.