This classic roast with a Spanish twist is an exciting way to spice up your Sunday roast.
Turkey Crown with Chorizo Crust & Sherry Herb Gravy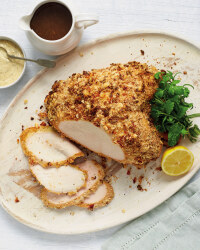 Recipe Information
Ingredients
1 Ashfield Turkey Crown, approx. 2.2kg
2 slices White Bread
35g Specially Selected Iberico Chorizo
20g Dijon Mustard
1 tsp Stonemill Dried Basil
Sea Salt and Black Pepper
400ml Boiling Water
100ml Caversham Sherry
1 Quixo Chicken Stock Cube
1 tsp Stonemill Mixed Herbs
3 tsp Quixo Onion Gravy Granules
Method
Defrost the Turkey Crown Pre-heat the oven to 200°C/400°F/Gas Mark 6.
Take the skin off the turkey crown.
Chop the chorizo and put into a food processor along with the white bread, add the basil and whizz until the mixture is fine breadcrumbs.
Put the mustard into a small dish, season well with salt and pepper.
Spread the mustard over the turkey crown, then pat on the chorizo crumb.
Put into a roasting tray and roast for about 90 minutes.
Check that the crust topping isn't getting burnt – if so cover loosely with some tin foil.
To make the gravy, dissolve the stock cube in the boiling water then add the sherry and mixed herbs.
Bring to the boil, turn down the heat, sprinkle over the gravy granules, and cook until thickened, then serve alongside the carved turkey.