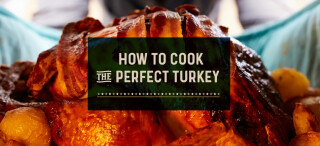 How to cook a turkey
If you don't know where to start when it comes to cooking your Christmas turkey, don't worry. We'll help you through every step of the prep with top tips, clever ideas and simple tutorials.
Choosing the right turkey
Pick your turkey based on the size of your family, and make sure it fits in your oven!
Small
A turkey up to 4kg can serve between 4-8 people.
You'd need approximately 600g of stuffing.
Medium
A turkey up to 7kg can serve between 10-15 people.
You'd need approximately 800g of stuffing.
Large
A turkey up to 10kg can serve between 12-16 people.
You'd need approximately 1.2kg of stuffing.
Time to prepare and cook your turkey
Watch our quick tutorials on how to prep your turkey and cook to perfection for all your family to enjoy.
Turkey cooking times
Make sure you get your turkey out of the fridge 30 mins before you cook.
Cook your turkey at 180°C Fan/350°C/Gas Mark 4.
2-4kg - 2 to 3 hours. Rest time 30 minutes.
5-7kg - 3 to 4 hours. Rest time 30 minutes.
8-10kg - 4 to 5 hours. Rest time 30 minutes.
Weigh the turkey after it's stuffed to get the timing right, and always remember to pre-heat your oven.

Pour, brush or spoon the excess juices over the turkey during cooking to keep it moist.

Test the bird is cooked using a probe thermometer. The temperature of the meat should be 75°C.

Loosely cover your turkey and allow it to rest. This gives the juices time to redistribute, keeping your meat moist.
Finishing touches and serving suggestions
Now it's time to add the last details and reveal your masterpiece to your waiting audience. Watch our videos and learn all you need to know. Then get ready for the applause.