Spicy turkey mince, fresh peppers and smoky cheese wrapped in soft flour tortilla wraps. Great for sharing and family dinners.
Turkey Mince Burritos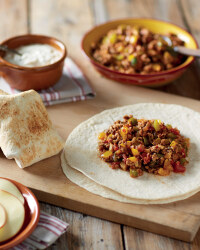 Recipe Information
Ingredients
1 x 450g pack British Turkey Mince
2 x Peppers
200g Mushrooms
1 x 300g jar Snackrite Salsa Dip
1 x 300g jar Snackrite Sour Cream Dip
1 x tsp Stonemill Paprika
1 x tsp Stonemill Chilli Powder
1 x tsp Stonemill Dried Basil
8 x slices Bavarian Beechwood Smoked Cheese Slices
1 x pack 8 Sunnyhills Tortilla Wraps
A little Solesta Sunflower Oil
Salt and Black Pepper
Method
Pre-heat the oven to 180°C/350°F/Gas Mark 4.
Chop the peppers finely; discard any white pith or seeds.
Wipe the mushrooms then chop finely.
Fry the mince in a large frying pan or wok, in a little oil until sealed, breaking up the mince with a wooden spoon as you cook.
Add the chopped peppers, mushrooms, chilli powder, paprika and basil and cook for a few minutes.
Add the salsa then season with a little salt and plenty of pepper.
Cook, stirring for a few more minutes.
Put the tortilla wraps out flat on a work surface; divide the mixture between them putting it in the centre of the wraps.
Put a teaspoon of sour cream on the top then add a slice of cheese.
Fold the wraps into a parcel then put them on a baking tray and bake in the oven for 15 minutes.