Fresh green beans in a tasty tomato sauce, sprinkled with cheese.
Tuscan Beans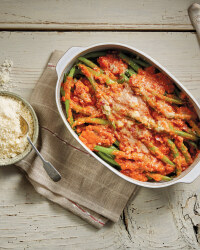 Recipe Information
Ingredients
2 220g packs Green Beans
400g tin Sweet Harvest Chopped Tomatoes
1 medium Red Onion
2 cloves Garlic
1 heaped tsp Specially Selected Pesto Genovese
1 Quixo Vegetable Stock Cube
60ml Water
25g finely grated Parmigiano Cheese
25ml Specially Selected Olive Oil
Sea Salt
Black Pepper
Method
Firstly, make the tomato sauce.
Peel and finely chop the red onion and garlic.
In a saucepan, sauté the chopped onion and garlic in the olive oil for 2/3 minutes.
Add the tinned tomatoes, pesto, crumbled stock cube and the water – season with some black pepper and simmer, stirring for 15 minutes.
Using a stick blender, liquidise the sauce until almost smooth.
Pre-heat the oven to 200°C/400°F/Gas Mark 6.
Cook the beans for 3 minutes in some salted boiling water, then drain well and put into an ovenproof dish.
Pour over the tomato sauce and sprinkle with the cheese.
Cook in the oven for 6/7 minutes, until the cheese is slightly browned.