For a very British dessert, try this Union Jack Victoria Sponge Cake.
Union Jack Victoria Sponge Cake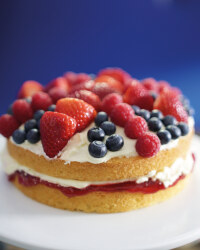 Recipe Information
Ingredients
3 medium eggs
150g self-raising flour
150g caster sugar
150g butter or margarine (Plus some for greasing)
Half a teaspoon of vanilla extract Strawberry jam to sandwich the cake
For the buttercream:
200g icing sugar
100g butter
1 teaspoon of vanilla extract
Punnet of Raspberries
Punnet of Blueberries
Punnet of Strawberries
Method
Preheat the oven to 170°C/Gas Mark 3.
lace the shelf in the centre of the oven.
Grease and line two 18cm (7 inch) sandwich tins with baking parchment.
Sieve the flour into a bowl and add the sugar, butter or margarine and vanilla.
Crack in the eggs and beat well until the mixture is light in colour and fluffy.
Divide the cake mixture between the tins and smooth the tops.
Bake for 30 to 40 minutes or until golden brown.
Cool for 5 minutes in the tins, then turn out onto a wire rack to cool completely.
To make the buttercream, sieve the icing sugar into a bowl, add the butter and vanilla and beat well.
To sandwich the cakes together: Add a layer of jam to the top of one of the sponges, followed by a layer of the buttercream on top of the jam, finish by placing the last of the sponges on top.
Smooth Buttercream over the top of the cake and add raspberries and blueberries and strawberries to create a union jack design.