Sweet crème brûlée pots made with double cream, cranberries, orange juice and vanilla.
Vanilla and Cranberry Pots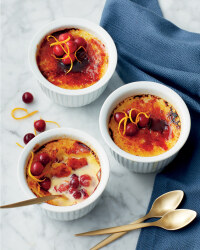 Recipe Information
Ingredients
450ml Double Cream
150g Caster Sugar
150g fresh Cranberries
75ml Orange Juice
4 Medium Free Range Egg Yolks
50g Granulated Sugar
1 tsp Vanilla Essence
6 ramekin dishes
Method
Pre-heat the oven to 180°C/Gas Mark 4.
Put the cranberries into a small saucepan along with 20g caster sugar and the orange juice. Bring to the boil then simmer for 5 minutes – allow to cool.
Put the remaining caster sugar, vanilla essence and the egg yolks into a bowl and, with some electric beaters, whisk well until pale and creamy.
Put the cream into a small saucepan and gently bring to the boil. Once boiling, pour this over the egg mixture and whisk well.
Divide the cranberries between the 6 ramekin dishes.
Pour over the custard.
Put the ramekins into a roasting dish and pour boiling water around them so it comes halfway up the sides of the dishes.
Bake in the oven for 35/40 minutes until just set.
Carefully remove from the roasting dish and allow to cool, then refrigerate.
To serve, sprinkle the granulated sugar over the tops then, using a blowtorch, caramelise the sugar, or place the ramekins under a hot grill.