Vegan Bean Chilli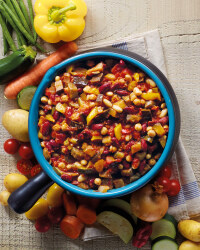 Recipe Information
Ingredients
1 Large Brown Onion
1 Aubergine
1 Yellow Pepper
1 Red Chilli
200g each – Red Kidney Beans, Cannellini Beans and Chick Peas
2 x 400g tins Chopped Tomatoes
50ml Olive Oil
1 Garlic Clove
1 tsp Paprika
Sea Salt and Black Pepper
150ml Water
Method
Peel the onion and chop finely.
Chop the aubergine into small chunks.
Cut open the pepper, discard any seeds and chop into small chunks.
In a large saucepan, heat the oil. Add the above chopped vegetables and cook, stirring for 8 minutes.
Finely chop the chilli and garlic, then add to the saucepan along with the chilli seeds.
Add the tins of chopped tomatoes, paprika and water, then season with salt and pepper. Bring to the boil, then turn down the heat and simmer for 15 minutes.
Drain the water from both tins of beans and chick peas and add to the saucepan.
Heat through and serve.