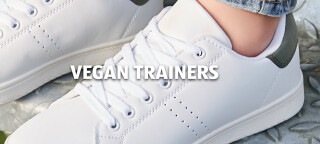 Introducing our first ever ALDI Vegan trainers!
Stylish, affordable and better for the planet, what is not to love about our amazing new vegan trainers? These non-leather, animal friendly trainers are approved and certified by the Vegan Society. Lovingly made with a padded collar and cemented outsole, these vegan trainers do not compromise on comfort and are a great alternative to leather shoes.
Vegan Trainers
These stylish Ladies' Vegan Trainers offer durability, comfort and performance with the added reassurance that they only contain man-made materials. Approved and certified by the Vegan Society, they're available in 2 designs, sizes 4-7.