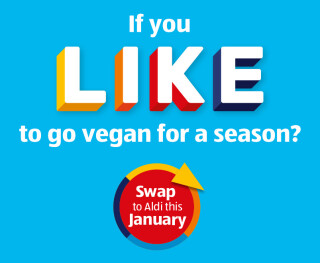 The popularity of plant-based diets
If you fancy trying vegan for a month (or more), you're not alone. Last year, over 400,000 people signed up for Veganuary for a variety of reasons – whether it's because it's healthier, kinder to animals or better for the environment. We'll show you how easy it is to make a plant-based diet tasty and exciting – and with so many vegan options available at Aldi, you can even do it on a budget!
If you like Veganuary savings
Swap today and save on lots of nutritious and delicious plant-based foods. You'll find everything you need in our vegan basket. With enough ingredients to serve 4. You could save 35% or more.
Based on a comparison of Aldi products against products shown only. Tesco may sell other products at different prices. Lowest Tesco price pro rata, considering size and offers, used and checked on tesco.com on 14/01/21. Excludes Tesco club card offers. Aldi price and packaging correct as of 14/01/21. For more information visit aldi.co.uk/janswap Subject to availability. Product packaging may differ in each region. Products and prices may vary in Scotland, Aldi Local and for Deliveroo.
Finding the right recipes
Changing to a meat-free diet successfully can be as simple as finding recipes that tempt you with all sorts of new ingredients and flavours to enjoy – and you'll find plenty of suitable starters, mains and desserts in our recipe collection! Here are just a few.
Vegan @ Aldi
Thought it'd be hard to find vegan alternatives to your favourite things? Think again! At Aldi we've a whole range of delicious meat-free options, and it's growing all the time. Plus, of course, it's all at amazing Aldi prices!
Keeping fit on a vegan diet
A vegan diet can give you all the nutrients, vitamins and minerals you need. But in certain cases – such as those who like to keep fit and burn a lot of calories – you might need to look at what you eat to get the balance right.
Over 25% protein, making them an excellent meat alternative

High in fat and calories for energy, and a good source of protein

Packed with protein and fibre, ultra-low in saturated fat

Try a secret superfood. Avocado may be higher in fat, but will also keep you fuller for longer.
All the protein and energy you need
Exercise means stocking up on protein and calories – and a vegan diet gives you plenty of options. Here is a delicious breakfast recipe packed with energy for active vegans!