This is a delicious adaptation of the traditional Greek dish.
Vegetarian Moussaka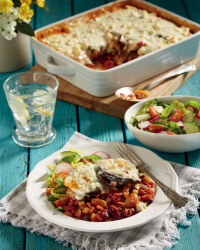 Recipe Information
Ingredients
1 x 400g tin Sweet Harvest Butterbeans
1 x 400g tin Sweet Harvest Red Kidney Beans
2 x 400g tins Sweet Harvest Chopped Tomatoes with Herbs
2 Aubergines
2 medium Onions
1 Courgette
1 x 150g pack Sweet Mini Peppers
2 cloves Garlic, peeled and finely chopped
1 Quixo Vegetable Stock Cube
6g fresh Basil, chopped
6g fresh Parsley, chopped
120ml Specially Selected Olive Oil
1 heaped tsp Stonemill Paprika
1 x 500g jar Cucina Lasagne Creamy Sauce
100g Feta Cheese
Sea Salt and Black Pepper
25cm square deep baking dish
Method
Pre-heat the oven to 200°C/400°F/Gas Mark 6.
Slice the aubergines into thin slices.
Put them onto a large baking sheet – drizzle over 100ml oil and roast in the oven for 15 minutes.
Meanwhile, peel the onions and chop finely.
Finely chop the peppers, removing any seeds.
Wash and finely chop the courgette.
In a large saucepan, sauté the onions in the remaining 20ml olive oil.
Cook gently until cooked but not browned.
Add the chopped peppers, garlic, courgette and the 2 tins of chopped tomatoes.
Drain the beans and add to the pan, along with the parsley, basil and paprika.
Crumble over the stock cube and season with a little salt and black pepper.
Cook for 20 minutes, stirring well and slightly squashing the beans whilst cooking.
Put half the mixture into the baking dish, then add a layer of the aubergines.
Top these with the rest of the bean mix.
Then add another layer of the aubergines.
Pour the lasagne sauce into a bowl, crumble over the feta cheese and mix well.
Pour this over the aubergine slices and bake in the oven for 40 minutes.