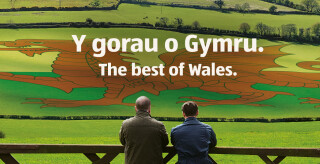 A passion for Welsh produce
We love our food. And we're passionate about supporting local producers wherever possible. Which is why, at Aldi, you'll find over 75 of our everyday products come from Welsh farms or makers. Such as brilliant beef and lamb, perfect potatoes and delicious dairy products, so you can support them too with your weekly shop. Amazing!
Wonderful Welsh Beef & Lamb
Here's a taste of our amazing legs of lamb and beef roasts, both sourced from the finest Welsh farms and stocked in local stores across the UK. So, you can enjoy the finest cuts for less, wherever you live. Find them in your nearest Aldi today.
Welsh Lamb

What makes Welsh Lamb so special? A combination of centuries-old farming traditions and modern practices with the lush beautiful pastures of the valleys is what makes it a meat naturally packed with great flavour, perfect for so many meals.
Welsh Beef
From juicy succulent roasting joints to perfectly-cooked steaks overflowing with gorgeous flavours, coming home to Welsh beef is always a little bit special – and no wonder, when you see where it's been reared. Try some today.
Welsh Sirloin Steak 21 Day Matured

Welsh Fillet Steak

Welsh Ribeye Steak 28 Day Matured
Delicious Welsh Dairy
Those same lush pastures that produce such prime quality meats are also responsible for Wales' exceptional dairy products, such as our cheeses, butter and yogurts.
Welsh Cheese

Producing distinctive cheese with a creamy texture and beautiful flavour is a tradition in Wales, our 100% Welsh Cheeses are made with milk from Welsh farms.
Why stop at Welsh cheese?
Our range goes much further than just cheese – here are just a few of the wonderful Welsh dairy products to look out for in store…
The best laid eggs
Did you know that Wales is now Europe's biggest producer of free-range eggs? No wonder Welsh eggs taste so good. Try them in these delicious recipes with your family this week.
Potatoes grown in the heart of Wales
Our local spuds come from Puffin Produce, deep in the heart of the Pembrokeshire countryside. Since the 1970s, the family run business has been hand-picking the best tasting potatoes and supplying them to UK families.
Locally grown

From Maris Pipers to Estimas, every potato at Puffin Produce is ethically grown for superior quality and taste. You'll find the full range in store, so stock up for your next family roast or fresh salad.
Why not try these great Potato recipes?
The spirit (and beers and liqueurs) of Wales
Like other parts of the British Isles, in recent years Wales has produced many distinctive craft beers, gins and even liqueurs, each one produced with passion and with its own unique taste to savour. Here are a few to try from our range.
Made in Wales
We can't talk about the best things that Wales has given the world without talking about Jade Jones! She's one of our amazing Team GB ambassadors and proud Welsh athlete.
Welsh warrior

Jade was born and bred in Bodelwyddan in North Wales. She wowed the world at the 2012 Olympics, winning Britain's first ever Gold medal in taekwondo. Find out more about our Team GB athletes