Bursting with fruity flavour, this summery salad is a wonderfully healthy option for lunch.
Watermelon & Feta Salad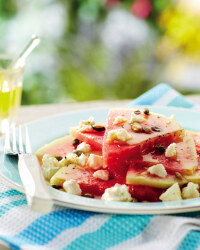 Recipe Information
Ingredients
½ Watermelon
200g Lyttos Feta Cheese
60g Pumpkin Seeds
10ml Sunflower Oil
30ml Lemon Juice
60ml Olive Oil
Stonemill Salt and Black Pepper
Find your ingredients online on Click & Collect or find your nearest store using our Store Finder.
Method
Cut the melon into slices, removing the skin and seeds.
Fry the pumpkin seeds in the sunflower oil for approximately 5-7 minutes until toasted.
Whisk the oil and lemon juice together, season with salt and black pepper.
Lay the slices of watermelon on a platter, crumble over the feta cheese, sprinkle the pumpkin seeds and drizzle the dressing over the top.
Great served with grilled chicken.