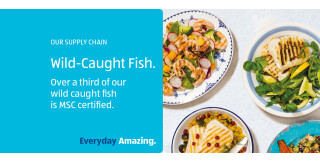 We will continue to improve the sustainability of our fish.
Over a third of our wild-caught fish and seafood is Marine Stewardship Council (MSC) certified and we are working with our suppliers to increase this further.
In 2016, we launched the first ever supermarket own-label MSC-certified pet food. We also ran a number of trials of new MSC-certified lines, inlcuding fresh monkfish.
And we will contine to improve the sustainability of our fish by working with our producers, the Sustainable Fisheries Partnership (SFP) and other organisations, such as the MSC, to inform our approach and guide the development of our policies and practices.
Just look for the MSC label on fish and seafood in supermarkets. This is an independent assurance that it has been fished sustainably and is traceable from ocean to plate.