Wine Advent Calendar
Product Ref: 085663246589000
Product Information
By law we cannot sell this product to anyone under 18
Counting down to Christmas?
This very festive advent calender is a mix of 24 mini bottles of white, rose, red and sparkling wines: one wine behind each door, on discovery every day!This is a perfect way to enjoy well known wines from prestigious regions.
Equivalent of 6 full bottles of wine 75cl
Please note, this item is available as a single product only, with a maximum order quantity of 1 per person. It's not part of our 'create your own case' offering, so you don't need to pick a minimum of 6 bottles to purchase this item.
Online and in-stores from 3rd November.
ABV
10% - 13%
Bottle Size
187ml - 200mll
Closure Type
Various
Grape
Various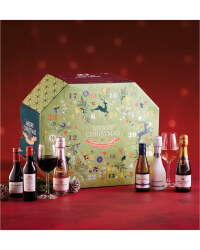 Allergy:

Contains sulphites

Colour:

Mixed

Type:

Red, White, Rose & Sparkling