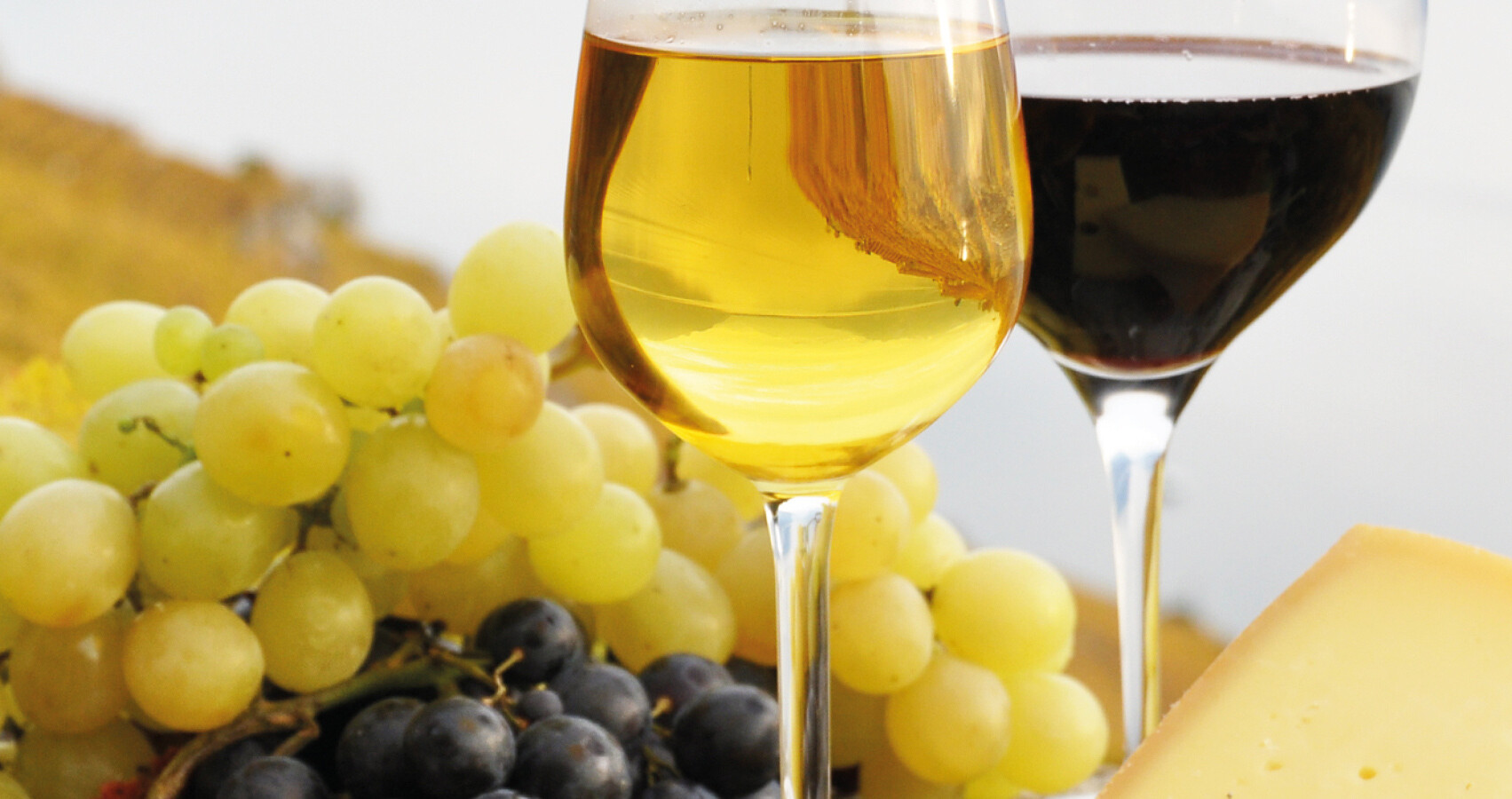 It's a conundrum that has perplexed dinner party hosts and cheeseboard fans for years – which wines go best with which cheeses?

The key to successfully pairing any food with wine is balance – balancing the strength and complex flavours of a cheese with a wine that will enhance these qualities, rather than overwhelm them.
So why are cheese and wine a match made in heaven? We've got the answer, along with some guidance on which cheeses pair best with certain wines.
Red Wine and Cheese


The reason cheese and red wine make such an excellent culinary pair is down to the way red wine is made. Tannins, such as the skins, stems, and leaves from grapes, as well as almonds and nuts, are important ingredients in the fermentation process that gives wine its individual flavour.
When red wine is consumed with certain foods, the astringent quality of the tannins means it binds with the fat in the dish, unlocking a fuller flavour – which goes some way to explaining why there's such a long history of people drinking red wine while eating cheese.
White Wine and Cheese


It's not just reds that have all the fun – white wine can be a fantastic accompaniment to creamy, soft cheeses. White wines are usually made without as many tannins, so they complement gentler flavours, without overpowering them.
White wine is also well suited to blue cheeses in particular, as the lighter flavours enhance the saltiness of the cheese, without detracting from the full-on flavour.

Wine and Cheese Pairing Guide
You may think that getting such a classic combination right is easy – after all, according to some historians, wine and cheese have been consumed as a pair since the earliest days of civilisation. There is, however, a surprising level of complexity and planning involved when pairing different cheeses and wines.
We looked into some of the most common cheeses served at the end of a meal, so you'll know which bottle (or bottles) to pick up next time someone reaches for the cheeseboard.
Cheddar


When it comes to pairing cheddar, certain strengths are better suited to some wines more than others. For example, a creamy, mild cheddar – as opposed to a strong, mature cheddar – will taste better when accompanied by a delicate grape such as a
Chardonnay
.
A full-bodied
Cabernet Sauvignon
, however, holds up well against sharp and mature cheddar, as the impactful tannins help to draw out the bold flavours.
Brie


Soft cheeses with tangy rinds go perfectly with an oaky wine, such as
Sauvignon Blanc
. Brie's strong, creamy flavour makes it an indulgent complement to
Champagne
too – giving you a handy excuse to crack open a bottle.
Gouda


Gouda is exceptionally nutty and needs a bold partner to complement its intense flavour. A full-bodied wine that's rich in tannins pairs well with gouda, so we recommend a Cabernet Sauvignon.
Wensleydale


Crumbly, British cheeses like Wensleydale need a full-bodied, high tannin wine to complement the tangy, creamy flavour. We recommend drinking a robust burgundy, such as
Pinot Noir
– blending a stunning French import with this delicious British invention.
Parmesan


There isn't a pasta dish in the world we can think of that doesn't benefit from a generous sprinkling of parmesan. Served as a garnish, or by itself, parmesan has been enjoyed throughout Italy and beyond for over nine centuries, with the first use of this aromatic cheese dating back to the Roman Empire.
Our Parmigiano Reggiano is aged for 14 days and goes perfectly with a light white wine, such as
Pinot Grigio
, or even sparkling wine, like
Prosecco
.
Blue Cheese


Love it or hate it, blue cheese has its own special requirements when it comes to wine pairing. Known for its unique taste, as well as its health qualities, blue cheese contains good bacteria to aid digestion and support a healthy immune system.
Due to its bold, salty flavour, blue cheese should be paired with low-tannin wine, such as a Chardonnay. Limoux Chardonnay is a particularly good choice, as it's buttery, oaky flavours will enhance the intense notes of the cheese.
Camembert


Powerful, creamy, and moreish, camembert can be paired with a host of crisp white and sparkling wines, including
Pinot Grigio
and
Cava
.
Curious about the best way to serve camembert? Serve warm and combine with garlic, chutney, and a few hearty chunks of crusty white bread for a crowd-pleasing snack.