Vegan Bean Mild Chilli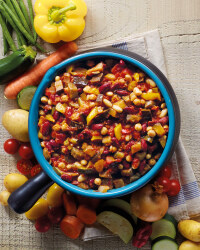 Recipe Information
Ingredients
1 Red Onion
1 Yellow Pepper
1 Courgette
200g Cherry Tomatoes
2 cloves of Garlic
400g tin Chickpeas
400g tin Red Kidney Beans
2 x 400g tins Chopped Tomatoes
10g Paprika
25ml Olive Oil
Salt and Black Pepper
200g Basmati Rice
Method
While prepping the chilli, cook the Basmati rice as per the instructions on the pack.
Peel and finely chop the red onion. Then, peel and mince the garlic.
In a large saucepan heat the oil, sauté the onion and garlic on a heat for 5 minutes.
Chop the pepper into small chunks and add to the pan, cooking for a couple of minutes. Add the chopped tinned tomatoes and the paprika and bring to the boil.
Chop the courgette into chunks the same size as the pepper and add to the pan. Then, lower the heat and simmer for 5 minutes.
Drain the beans and the chickpeas and add to the pan also, seasoning with some salt and black pepper.
Cook for another 10 minutes, then serve alongside the rice.