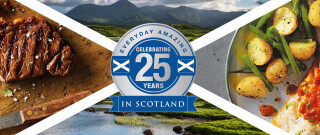 Welcome to our Everyday Amazing Scotland
Like you, we love fine, fresh Scottish food. That's why we work with the best Scottish suppliers who are just as passionate about bringing you quality, award-winning food and drink you can trust. When you're at your local Aldi store, not only do you get great value and delicious food, you are also helping to support sustainable suppliers and farmers from across Scotland.
Celebrating Scottish spirits
We've selected an enticing mix for our first Spirits of Scotland range to give you a taste of the very best of Scotland. Plus, as Aldi is celebrating 25 years in Scotland, we've included an exclusive 25 Year Old Glen Marnoch Single Malt. Slangevar!
Our Scottish Sport Fund 2019 is now open
Apply now for your chance to secure up to £500 funding for sport in your local community.
35 amazing Scottish beers
Welcome to our 18th amazing Scottish Beer Festival. We've brought together 35 great beers from 7 breweries across Scotland so you can enjoy the best beers Scotland's dedicated brewers have to offer.
Your guarantee of quality
We're committed to bringing you the best quality products that Scotland has to offer. From juicy Scotch Beef steaks to tender Scotch Lamb, delicate Scottish Salmon and more, look out for the quality accreditation logos on packs in store.
Discover more about our Everyday Amazing Scotland