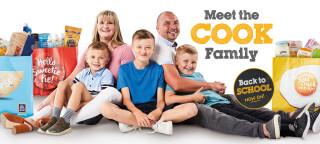 Full marks for value
After 6 weeks' holidays, the Cooks can't wait for term time to start. They've already given Aldi top marks for lunch box value, having discovered a whole selection of fresh Super 6 fruit and veg offers, healthy snacks and lunch box fillers. See how they've saved on their back to school shop!
†Comparison of products shown only. Tesco may sell 'own brand' products at different prices. Lowest Tesco price pro rata, considering size & offers, used & checked on tesco.com on 20.08.19. Product may vary by store. Details at www.aldi.co.uk/swap
Go to the top of the class
School mornings might be chaos in the Cook house with 3 growing boys. However, Mum Vicky always makes sure they have plenty of nutritious lunch boxes and delicious mid-week recipes.
Our ultimate Back to School recipe collection
From the moment the family wakes up, until the moment they all file in for an evening meal, we've got amazing recipes to fuel their day. Explore our breakfast, lunch box and midweek family meal inspiration now.
Lunchbox meals they'll love
Send the kids off with our healthy meals and tasty snacks this school year. We've got clever twists on traditional dishes and exciting new recipes to keep them looking forward to lunch.