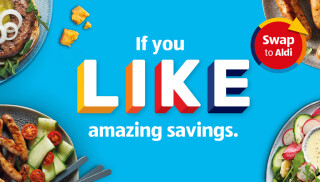 Try our latest spring recipes
Swap to Aldi and as well as lots of great savings you'll find plenty of great recipe inspiration. Like our tasty Chicken Katsu Scotch Egg or a Tortilla Salad bowl. All simple and delicious ideas using everyday ingredients you'll find in store.
Tuna and Piccolo Tomatoes
Tuna steaks are a firm, meaty fish and easy to fry, bake or barbecue. Try roasting our frozen tuna steaks with sweet piccolo tomatoes. Simply season with black pepper and olive oil, then roast for 20 minutes and serve with baby potatoes. Delish!
Fire up the BBQ
Hooray! It's time to fire up the grill and enjoy a few mouth-watering BBQ favourites. And thanks to our delicious range of fresh foods and recipe inspiration, you'll have lots of tasty ideas to try. Get started with two of our Taste Kitchen favourites. Simply click, watch and learn.
Super 6 and Fresh Weekly Offers
We work with our amazing suppliers to make sure every Aldi store is stocked with quality fresh meat, fish, fruit and veg every day. But every 2 weeks, we pick 6 of our favourites and offer them at super low prices to give you even better value. Take a look at what's on offer this week…