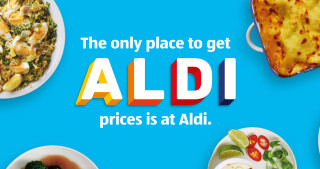 A week of family dinners for less
Our budget-friendly basket below is a great way to feed the family for less. All the products inside make up 7 delicious classic and family favourite meals, including pizzas and ice cream for a treat night in and all you need to make a selection of easy dinners. Just pick up the ingredients you like at a price you'll love.
†Based on a comparison of Aldi products against products shown only. Sainsbury's may sell own brand/other products at different prices. Lowest Sainsbury's price pro rata, considering size and offers, used and checked on sainsburys.co.uk on 23/02/21. Aldi price and packaging correct as of 23/02/21. Subject to availability. Product packaging may differ in each region. Products and price may vary in Scotland, Aldi Local and for Deliveroo. For more information visit aldi.co.uk/febswap.
Swap to easy family meals
As well as lots of quality ingredient swaps at prices you'll love, we've got plenty of recipes to inspire your meals at Aldi. Try our favourite Steak and Ale Pie, classic Slow Cooker Veggie Lasagne or crowd-pleasing Baked Sausages and Sweet Potato Mash. Go on, cook up a quick and easy family meal, for less.