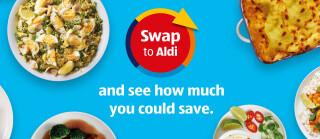 Amazing savings are waiting in store!
Welcome to the home of Swap & Save, our mission is to make amazing, quality food more affordable for Britain's families. Make the switch today and see how much you could save! Here's a few highlights we think you'll like with inspiration for recipes, product swaps and our great value Back to School essentials!
Save on heart-warming homemade dinners
Save even more with our amazing in store offers
We work with the best suppliers to stock every store with quality fresh meat, fish, fruit and veg. Then every two weeks we pick 6 of our favourites and offer them to our customers at super low prices. And all at no extra cost to our amazing suppliers. Aldi. Super quality. Super value.
Cosy cookbook recipes
Bring out the deep dishes and one-pot recipes! It's the time of year for creamy, comfort food and layers of flavours. Try our curries, veg bakes and more this week.
More ways to save time and money
Explore more of what makes Aldi Everyday Amazing. With our famous Super 6 offers, fantastic Specialbuys and new ways to shop, you'll find more reasons to swap your shop this week.