Succulent chorizo sausages, baked in a deliciously tangy cider and tomato sauce.
Braised Chorizo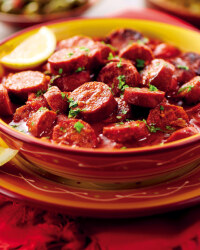 Recipe Information
Ingredients
2 Solesta Whole Chorizo Sausage (spicy or mild or try one of each)
200ml Orchard Hills cider
1 tin Chopped tomatoes
Method
Peel the chorizo sausages and discard the strings and skins.
Cut the sausages into 2cm thick slices.
Fry the slices in a hot pan for 5 minutes tossing regularly to caramelise the edges.
Remove the pan from the heat and pour on the cider.
Turn the heat down to low and mix in a whole can of chopped tomatoes.
Allow the chorizo to cook gently for 1 ½ hours until very tender.
Serve with focaccia bread or as an accompaniment for chicken or fish.