A classic rustic French sharer. Brilliant for parties.
Camembert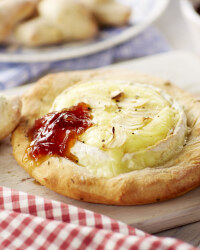 Recipe Information
Ingredients
1 x Whole Camembert
1 pack Crusty white bread mix
2 tsp Dried mixed herbs
1 clove Garlic, sliced
3 tbsp Specially selected onion chutney
Find your ingredients online on Click & Collect or find your nearest store using our Store Finder.
Method
Preheat the oven to 190°C/375°F/Gas Mark 5.
Mix the bread dough with the dried herbs and mix with water to the packet instructions.
Once the dough has been kneaded remove the camembert from pack and take a fine slice from the top - just enough to take the rind off.
Take a handful of dough and roll into a flat circle of 4cm diameter bigger than the camembert.
Place the camembert on the dough and push up the sides.
Divide the remaining mix into 12 even sized pieces.
Roll each piece into a strip 3cm wide and 10cm long; then roll into coils (like snails).
Position the bread coils evenly around the camembert and allow to prove for 30 mins in a warm place loosely covered in oiled cling film.
Just before baking stud the cheese with the garlic and dollop on the chutney.
Bake in oven for 20-25 minutes. Enjoy hot!