A delectable mix of spiced rum, Irish Cream, coconut milk, pineapple juice and cinnamon.
Jack Frost Colada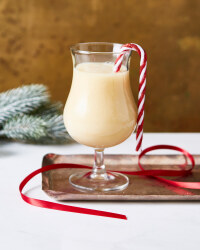 Recipe Information
Ingredients
40ml Specially Selected Irish Cream, use Ballycastle White Chocolate Cream Liqueur for something extra special
20ml Cassario Black Spiced Rum
50ml Coconut Milk
50ml Pineapple Juice Pinch of Ground Cinnamon
To Garnish:
Pinch of Nutmeg
Method
Shake all the ingredients together with cubed ice in a cocktail shaker.
Pour into an ice-filled glass, then garnish with a sprinkling of nutmeg.