A nutritious and delicious, creamy mustard side, finished with pine nuts and paprika.
Sprouts with Mustard Cream Sauce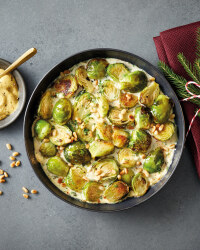 Recipe Information
Ingredients
400g Sprouts, trimmed
200ml Double Cream
2 x tsp Dijon Mustard
20g Pine Nuts
1 x tsp Paprika
8g fresh Parsley
25ml Olive Oil Infused with Garlic
Sea Salt and Black Pepper
Method
Pre-heat the oven to 200°C/Gas Mark 6. Cut the sprouts in half and put onto a baking sheet – drizzle over the garlic oil and bake for 10 minutes.
Chop the parsley and put in a bowl along with the cream and mustard, then season with some salt and black pepper.
Once the sprouts are cooked, transfer to a baking dish. Mix in the mustard cream. Sprinkle over the paprika and the pine nuts, then bake for a further 10 minutes.
Serve piping hot.