Warm Chorizo and Potato Salad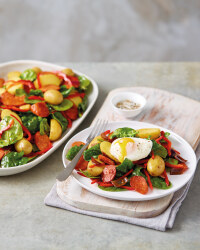 Recipe Information
Ingredients
200g Chorizo Ring
500g Miniature Potatoes
2 Small Red Onions
2 Sweet Pointed Peppers
200g Baby Spinach Leaves
4 Medium Eggs
75ml Rapeseed Oil
25ml Maple Syrup
½ tsp Paprika
5ml Lemon Juice
Method
Mix 50ml of the rapeseed oil, lemon juice, maple syrup and the paprika together and mix well – set aside while you make the salad.
Cut the peppers in half lengthways, remove any seeds and white pith and slice thinly. Put them in a large bowl along with the spinach leaves.
Boil the potatoes in some salted water until just tender – drain and cut each potato in half.
Peel the onions and thinly slice. Then thinly slice the chorizo ring.
In a large frying pan, with the remaining oil, sauté the onion and chorizo for about 6 minutes until just browning.
Put the warm potatoes, chorizo and onions in with the spinach. Stir the dressing, pour over, toss the salad and divide into 4 bowls.
Finally, poach the eggs and top each plate with one before serving.