Juicy avocados, roasted with crispy bacon and topped with eggs. A delicious Mediteranean lunch option.
Baked Avocado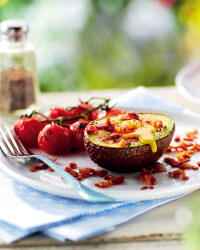 Recipe Information
Ingredients
2x Avocado
4x Merevale Large Eggs
130g x Dry Cure Streaky Bacon Rashers
Stonemill Black Pepper and Paprika
A little Solesta Olive Oil
Find your ingredients online on Click & Collect or find your nearest store using our Store Finder.
Method
Preheat the oven to 180 °C/350 °F/Gas Mark 4.
Cut the avocados in half lengthways, remove the stone and then cut a little slice from the bottom of each half so they stand without wobbling.
Separate the eggs and put the yolks in the holes left by the stone in the avocados.
You can use the whites to make meringue or freeze for another time.
Place the avocados onto a baking tray, season with black pepper and paprika and then bake in the oven for ten minutes until the egg is set.
Meanwhile – cut the streaky bacon into small pieces saute them in a little olive oil in a frying pan until crisp.
Serve the avocados sprinkled with the pancetta.
Great served with garlic bread and some roasted cocktail vine tomatoes.