Melted chocolate mixed with marshmallows and all your favourite Halloween treats.
Chocolate and Marshmallow Popcorn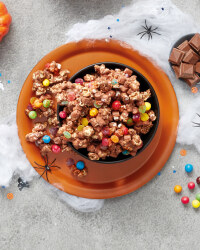 Recipe Information
Ingredients
200g Milk Chocolate
100g Sweet & Salted Popcorn
180g pack Mini Marshmallows
121g pack Crispy Choc Um's / Crispy M&M's
150g bag Rainbow Dots
Method
Break up the chocolate and put into a heatproof bowl.
Put the bowl over a pan of simmering water – melt the chocolate, making sure the bottom of the pan does not touch the water.
Put everything else into a large bowl.
Once the chocolate is melted, pour over the sweets, mix well and allow to cool and set.
Break into bits and serve.