Here's a cocktail that's worth getting to know. All you need is rum, cream, raspberries, mint and sugar.
Chocolate Raspberry Martini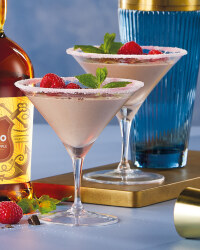 Recipe Information
Ingredients
160ml Raspberry Mojito Rum
20g Dark Chocolate, grated
140ml Double Cream
100g Fresh Raspberries
2 Sprigs Mint
Caster Sugar
2 Martini Glasses
Method
In a small saucepan, gently melt 18g of the chocolate and the cream, on a low light until just melted. Whisk well and allow to cool.
Keeping 4 raspberries to one side, liquidise the rest.
Strain to remove the seeds and put the purée to one side.
Dip the top of the martini glasses in the strained seeds to dampen the rims, then dip in some caster sugar to give you a pink sugared rim.
Mix the rum with the chocolate cream and divide this between the glasses.
Gently pour the purée over the top and sprinkle with the remaining chocolate.
Decorate with the raspberries and the mint and serve.