Simple, refreshing, and delicious. Serve this traditional Scottish gin cocktail in high ball glasses over ice.
Cranachan Cocktail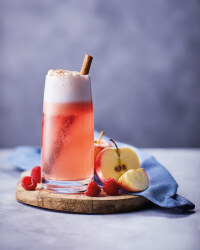 Recipe Information
Ingredients
75ml Scottish Traditional Gin
30ml Apple Juice
30ml Lemon Juice
1 tsp Honey
70g Raspberries
1 Egg White
Pinch Ground Cinnamon
Ice Cubes
200ml Soda Water
Fresh Rosemary and Raspberries as garnish
Method
Put the gin, apple and lemon juice, egg white, honey, raspberries, and cinnamon in a cocktail shaker with some ice cubes.
Shake well for a few minutes.
Strain into 2 chilled high ball glasses, top with soda water, garnish with the rosemary sprigs and raspberries to serve.